This page is to help describe some of the things we do, how we do it and to help you the customer better understand your sewer system and how to prevent future problems. The one thing I can't stress enough to everybody is INSURANCE. Some people who have experienced any type of sewer backup think for some reason or other that they can just get thier carpets cleaned or rent a steam cleaner to do it themselves. You can't, sewer is made up of bacteria and lots of it. If you have insurance then use it in case of a flood and if not then you really should think about getting it.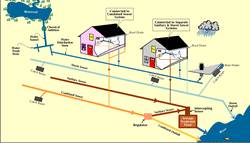 This gives you the basic idea of a typical sewer system where the home is hooked up to a municipal sewer such as a city, town, village, etc. All the homes are connected to one main sewer line which runs usually under the street or alley until it comes to a sewage treatment plant that cleans the waste water then turns it into clean water that can be put back into rivers, lakes, etc. Now when something happens to obstruct the flow in those main sewer lines and it starts to back up, a lot of times it will start to back up into someone's home and then not only do you have sewer in your basement but you have other people's sewer in your basement.
---
One major cause of sewer problems are tree roots. The roots of some types of trees are able to grow through the joints of some of the older types of pipe such as clay tile. When the roots need water they find it in the sewers. Once they are in the pipe solids catch up on the roots and form a blockage which then has to be cut out. In these cases we can use either a power auger with a saw cutting blade or our high pressure jetter with different types of nozzles. By using high pressure water some nozzles have spinning attachments that the pressure turns for cutting roots, grease, etc. Grease, soap, oils, etc are another thing that can cause major problems in your sewer system. Grease from kitchens, soap from laundry, bath, etc and even just the oils from your own body. They can all build up in the pipes and when they do it starts to slowly close up the pipe and decrease the inside diameter until it's completly blocked.
One type of penetrating nozzle

The water pressure spins the front part of the nozzle to grind through blockages while the back has jets that directs the water behind it which pull the nozzle and hose through the sewer.

---

Rotary saw blade being driven by water pressure

This nozzle uses water to turn the motor and shaft which you can attach different size saw blades to to cut roots out of a pipe. Usually used for root cutting in main sewer lines between manholes. This nozzle also uses water jets directed to the rear to force it forward.

---
This picture shows how a
4 inch pipe is reduced in size due to grease build up in the line

---

This photo is taken from a camera used to video inspect sewer lines. The top photo shows the grease build up and how it's building up on the sides and top of the pipe.The bottom photo is of the same pipe after being cleaned with a high pressure jetter.

---